Mark Lawrence

Mark Lawrence was born in Champagne-Urbanan, Illinois, to British parents but moved to the UK at the age of one. He went back to the US after taking a PhD in mathematics at Imperial College to work on a variety of research projects including the 'Star Wars' missile defence programme. Returning to the UK, he has worked mainly on image processing and decision/reasoning theory. He says he never had any ambition to be a writer so was very surprised when a half-hearted attempt to find an agent turned into a global publishing deal overnight. His first trilogy, THE BROKEN EMPIRE, has been universally acclaimed as a ground-breaking work of fantasy. Following The Broken Empire comes the bestselling RED QUEEN'S WAR trilogy. The BOOK OF THE ANCESTOR trilogy, in an entirely new setting, commences with RED SISTER in 2017. Mark is married, with four children, and lives in Bristol.
Release date: April 6th 2017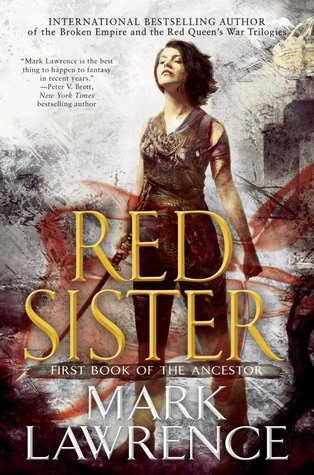 "I was born for killing – the gods made me to ruin"
At the Convent of Sweet Mercy young girls are raised to be killers. In a few the old bloods show, gifting talents rarely seen since the tribes beached their ships on Abeth. Sweet Mercy hones its novices' skills to deadly effect: it takes ten years to educate a Red Sister in the ways of blade and fist.
But even the mistresses of sword and shadow don't truly understand what they have purchased when Nona Grey is brought to their halls as a bloodstained child of eight, falsely accused of murder: guilty of worse.
Review:
I'm not sure if i should be immensely grateful to Mark Lawrence or curse him soundly? This has been book 7 for 2017 for me, and i'm not sure i want to be in a position of thinking I've just read what is highly likely to be the best book i will read this year. But that's the case, any other author is going to have to smack the ball way way out of the park to top this read.
I admit i'm a fan of Mark Lawrence's writing, and I've given him high praise before, but even with my love of the wonderfully sarcastic Jalan and the brutally efficient Snorri, i could very quickly see them eclipsed by the characters of this new series. Who would have imagined that the antics of a bunch of young girls training to be warrior Nuns would be so well imagined? The world building in this book is phenomenal, Marks style as always is so subtle, the world emerges around you as you read, there is no conscious information drop, you see it and it develops through the eyes of the characters, with different view points and perceptions. The magic in the book is subtle and wonderful, a little bit shown then a bit more, each piece branching and dovetailing neatly into the next to weave a complex set of abilities and society of magic amidst a failing world. There are ever progressing tantalizing glimpses of where these people came from, making the book borderline Sci-Fi (careful there mark…. i don't like Sci-Fi 😉  ) I feel this series has so much more to come, so many layers to the story and the characters that no matter the genre you read it can and will totally capture your attention and take you on an amazing journey.
I find myself wanting the use the phrase character growth, yet it seems redundant, we are following the early years of training and growing up of these girls, so there has to be character growth. yet it is carried out in a very real fashion, all the little interplay's of friendship, politics, fun and pain are there, all the little interplay's that children have but in a more brutal word with a harder set of rules and training, an uncompromising life for an uncompromising world.
This book and its lead character Nona will literally explode into your life from the first page, demanding your attention, needing love and protection and your time and devotion, and giving you none of those in return, but instead delighting you with her growth and achievements, her prowess and her misdemeanors. Mark Lawrence seems have managed to make a book that emotionally is the equivalent of raising your own warrior child.
Book 2 cannot come soon enough.
(Parm)
Series
Broken Empire
1. Prince of Thorns
(2011)
2. King of Thorns
(2012)
2.5. Sleeping Beauty
(2014)
3. Emperor of Thorns
(2013)
Mark Lawrence 2-Book Bundle (omnibus)
(2013)
The Complete Broken Empire Trilogy (omnibus)
(2014)
The Secret
(2015)
Road Brothers
(2015)
Red Queen's War
1. Prince of Fools
(2014)
2. The Liar's Key
(2015)
3. The Wheel of Osheim
(2016)
Red Sister
1. Red Sister
(2017)
Collections
Road Brothers Stories
(2017)
Novellas